About TLC Mobile Autocare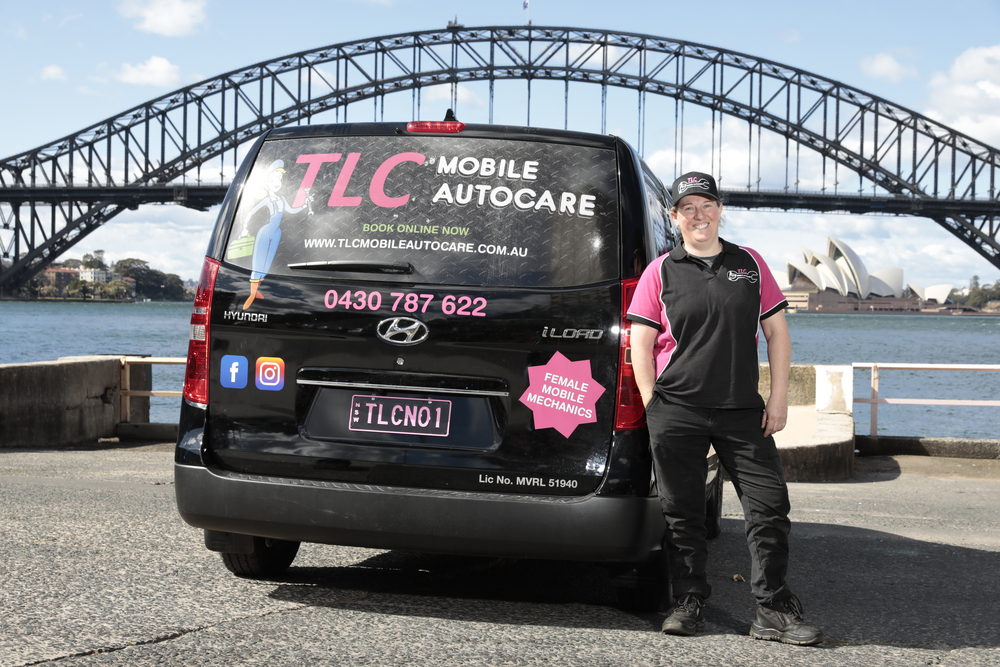 About TLC Mobile Autocare
With over 15 years experience in the automotive industry, TLC Mobile Auto Care exists to provide honest, reliable service and repairs to our clients. We don't do unnecessary repairs that you don't need.
Servicing your car can be expensive enough. We are cheaper than the dealerships and pride ourselves to give you the best experience possible when it comes to your vehicles needs.
Mel has been servicing the cars of the Inner West for the last 5 years. With a team of all female staff, TLC Mobile Autocare are your competitive priced, female friendly mobile mechanics!
We have used TLC Mobile Autocare three times over the past 12 months, Mel (Melanie) does fantastic work, professional and transparent, no hidden cost and very friendly, reliable and honest.You will have NO regets using TLC mechanic.Highly recommended.Thanks Mel for your great work.

chris saint
04:34 17 Dec 21
Mel was fantastic! Great prices, product and knowledge. Super happy with this service, highly recommend.

Maddison Forcha
10:51 03 Dec 21
Hands down best experience I've ever had at a mechanic. Jude and Mel guided me through the whole process with complete clarity and without any condescension or attempts to cheat me out of dollars, which has happened to me at multiple other mechanics. Every part of the repairs was explained to me clearly so I understood why it needed to be replaced. You can tell they really care about your car and want you to have a positive experience while keeping the cost as affordable as possible.As there's nowhere on my street to park their van, I dropped my car to them a few suburbs over and they went above and beyond by dropping me home and then bringing the car back to me when they were finished. The whole process was so easy.Cannot recommend TLC highly enough - have told all my friends about how wonderful this team is and I couldn't imagine going anywhere else again.

Rosie Niven
00:57 25 Nov 21
Mel is a fantastic mechanic and very down to earth. She explained to me everything she did and how so I knew that she was going a real job. Love a mechanic that takes female drivers seriously!

Ursula Reynolds
02:22 20 Nov 21

Amy Thomas
08:05 03 Nov 21
Can't recommend Mel enough! She believe in doing the right thing by the customer, and never ripping customers off like my previous mechanic I saw! Mel has saved me $1k, and I'm gonna stick with her from now!

Josephine Qiu
09:41 23 Oct 21
The most trustworthy mechanic in Sydney

Tahlia Geach
05:09 22 Oct 21
Great value, great service. After being ripped off by some other mechanics I would 100% recommend TLC Mobile Autocare. Explained everything she was doing and why and went the extra mile.

Catherine Tuckwell
09:39 06 Oct 21
Would highly recommend TLC Mobile Autocare. Mel was honest and reliable and made the whole process super easy. I can happily say that I will continue to use TLC Mobile Autocare in the future!

Gabby Long
04:08 06 Oct 21
This was my first time using a mobile system for car servicing and I'm very happy I did. Melinda did a great job, she was professional and prompt and particularly in these days of lockdown, it was great to have a female mechanic come to the house and carry out the work at a safe distance.

Miriam Tully
05:56 02 Oct 21
Excellent service!!Cannot recommend TLC Mobile Autocare enough. Friendly service and good prices.

Jemima Tilly
00:33 30 Sep 21
Excellent service, great communication, fast, friendly, was happy to have me watch on and learn a thing or two in the process. Couldn't recommend more highly for a trustworthy and efficient mechanic. Thanks again Mel!

Wonderful experience. On time, very thorough and fair. The car is now running like a dream after the major service TLC did. Thanks Melissa.

Claudia Jordan
11:01 03 Sep 21
Mel is a great mechanic who I would recommend to anyone. She doesn't try and BS you about your car and will be clear about what needs to be done and why. I am glad she takes the time to explain stuff to me so I know what to look out for too. Plus, it's super convenient to have her come to you!

Drew Hawkes
10:44 26 Aug 21
TLC Mobile Autocare are amazing! Mel was great to deal with, efficient and honest. Highly recommend.

Steph Royales
22:23 17 Aug 21
This is the best mechanic experience I've ever had and has relieved so much anxiety for me around getting my car fixed. She's so obviously honest and really cares about her clients getting the best deal. I would recommend to anyone in Sydney. I don't think you'll find a more honest mechanic elsewhere.

Cherub Wayne
08:40 29 Jul 21
I had problems starting my engine and couldn't jumpstart it with cables. Called Mel around 10am on a Saturday morning and she came out quickly. She identified the problem immediately (poor quality battery, only installed a year ago) and got the engine running so we could take it back to the mechanic and get a replacement under warranty. Mel was also very generous to not charge for the call out - much appreciated. Thanks for getting me back on the road in such an efficient manner!Will recommend to family and friends.

Mel is incredibly professional and gave my car a fantastic service. I would strongly recommend her services to anyone in Sydney and the inner-west.

Marsha White
02:48 01 Jul 21
You know when you need to go to a mechanic and you do a big sigh because you don't want to get ripped off?Go to Mel. Walks you through everything, gives you options, gives you her professional opinion on everything. Really glad I booked my servicing through her, would strongly recommend to anyone.10/10

zoe hyland
00:14 29 Jun 21
Mels great, always explains whats happening, no bs.

Your Critter Sitter
03:34 20 Jun 21
Mel was amazing!I went to a dealership that gave me an expensive quote. I called her straight away to get a second opinion, she came the following morning to check my car and gave me a better and cheaper quote!She then picked up my car and fixed it.It is so nice to have an efficient, reliable and honest mechanic.Highly recommend!

Ines Habachou
03:33 12 Jun 21
Mel has been a breath of fresh air to deal with. Super helpful, diligent and always willing to go above and beyond to help her clients. Couldn't recommend TLC Mobile more when it comes to a reliable, trustworthy mechanic.

Charleen Ong
03:06 08 May 21
I can't recommend TLC enough . I have an old car which needed a pink slip and service . Mel went above and beyond to get the job done despite difficulties finding parts. I was back on the road and registered in no time, hours before expected . Such great service , thank you !

Carmen Monserrat
09:55 05 May 21

JacquiBonner
08:36 31 Mar 21
Have had years of great experience with Mel, maintaining both our primary people mover, and she evaluated our 2nd hand 2nd car purchase and followup maintenance.Love that she comes to the door and manages the experience from there, which was amazing during Covid.Would recommend TMC Mobile Autocare to anyone.

Paul Doessel
08:34 19 Mar 21
Saw Mel's van in the area and decided to give her a call. So glad i did! Super convenient having her come service my car at work. She explained everything and was very thorough. Bonus that she is so friendly! We will now be getting our work vehicles serviced with Mel too!

Samantha Taylor
00:25 10 Feb 21
Mel has worked on my car, my daughter's car and my mother's car for several years now. I can't quite believe how lucky we were to find her! Always on time, always honest and thorough - and knows to explain things to me in terms i (not a car person) can understand. She has even recently done a pre-purchase inspection on a vehicle I've just bought and really impressed the dealership I bought it from with her knowledge and professionalism. Owning and maintaining my car almost feels like a partnership with Mel - and I will happily and enthusiastically recommend her to anyone. PS Having her come to you is just the icing on the cake. So convenient for a full time working mother.

tristan hanlon
11:56 09 Feb 21
Professional, reliable, honest & trustworthy. Mel went above & beyond & understood my concerns about my car & problems fixed! Cannot recommend TLC mobile high enough & Mel was a pleasure to deal with.

Carolyn Day
04:38 08 Feb 21
Reliable, convenient and friendly. Highly recommend Mel for car care

I would thoroughly recommend Mel @ TLC Mobile Autocare. Along with the convenience of a mobile auto service, she is also trustworthy, experienced and professional. Communication was clear, the cost was reasonable, and she provided great advice. Overall excellent service.

Fantastic service and quality care! Mel is extremely friendly and educational about the workings of a car, she really knows her stuff, all the while executing a spectacular result in the end. Highly recommended!

LiamRegent
01:32 03 Feb 21

Tori Wouters
08:26 27 Jan 21
Finally an honest and reliable mechanic who has good rates and knows her stuff and won't rip you off like some do. Girls do yourself a favour and give her a call. Very happy with the service on my Lexus. Thank you Mel from TLC.

Jude Hartnett
07:50 27 Jan 21
Excellent mechanic. Mel is extremely knowledgable and a terrific communicator of all things mechanical. She is organised and keeps great records of what your car needs (so you don't have to remember). She is punctual and works quickly and efficiently. The car drives better after a visit from Mel.

Lea Redfern
04:35 15 Jan 21

Maria Morelli
07:48 06 Dec 20
It is so good to find an honest, professional mechanic. Highly recommend.

Sharyn Moses
09:29 04 Dec 20
Great service thanks Mel. Efficient and friendly. Attention to detail and advised me on best options for care of the car. Car is so running well thanks Mel ⭐️⭐️⭐️⭐️⭐️

Shona Tough
02:35 05 Oct 20
TLC , were very friendly and knowledgeable explaining details in simple form, for someone who isn't a mechanic like me.They were on time and very reasonable with pricing. I strongly recommend TLC mobile straight to your door.

Ann-Marie Calilhanna
02:34 05 Oct 20
Excellent service and attention to detail. Great mechanic my car has never run better will be definitely telling all my family and friends and will definitely use this mechanic again will never go anywhere else.

Lauren Lauren
01:58 05 Oct 20
This mechanic is amazing! Always on time, gets the job done fast, cheaper than anywhere else I saw quoted for the same job, such fantastic quality and I just feel so looked after. Took all the hassle and stress out of getting the car done. She goes the extra mile and is also super funny and entertaining!. I'm getting every little thing done that I've been avoiding for ages as it's been such a positive experience, and telling everyone I know about her!

Sage Andreasen
04:04 23 Sep 20

Excellent service and rego safety inspection from TLC. So much easier than schlepping to a garage and really decently priced. Wish I'd known about you sooner!

Emma Startup
04:01 08 Sep 20
Been servicing my car with Mel for 3 years now. Always does a great job 👍👍

Nada Challita
12:08 07 Sep 20
Efficient, friendly and excellent pricing.

Niamh Rose Mulvey
06:09 04 Sep 20
I am so happy with the service I received!I used to get my car serviced at a large organisation, but often felt like i was being taken for a ride because i dont know much about cars.Finally an honest mechanic that I feel like I can trust.My car is driving the best it has in years!Would definitely recommend.

anastasia zaravinos
01:44 02 Sep 20
Mel is punctual, professional and personable. Came to diagnose a problem outside of work hours and took great care of our car. Can't recommend her highly enough!

Christopher McColm
04:35 01 Sep 20
Excellent service and customer care! Mel improved my car completely with her service and attention to detail. Great pricing also and a reliable mechanic

courtneyB Mkatz
06:24 22 Aug 20
I have been using Melissa who is TLC Mobile Autocare for years now. She is amazing, responds to emails and enquiries promptly. Excellent service, punctual and value for money. Also I trust and value her opinion, frank and fair quality mechanic. What else do you need?


Had a bunch of bad experiences with mechanics in the area. Called TLC and van is back on the road. Thanks Mel, very professional, happy with the service.

Jacqueline Sleep
13:07 16 Jul 20
I cannot express how extremely impressed I am. First time callout and Melissa went above and beyond anything I have ever experienced or expected. 1000% recommend. Amazing service, one hell of a funny woman and amazing pricing.

Excellent Mechanic. Booking was super easy, great communication. She came to me and gave my car a great service and answered all my questions and concerns I had about the car. Definitely worth the money and so easy as she comes to you!

Diane Lawson
08:02 16 Jun 20

Max Ainsworth
12:04 10 Jun 20
Can't thank Mel enough for such a good job on our car and great price ! Thanks so much will be using Mel from now on. Will be referring to our family and friends going forward.

Sheridan Aylmer-Svetkoff
08:09 04 Jun 20
Service was so good I activated a Gmail account to leave this review. Professional, punctual and proficient. Have already recommended to others and will continue to do so. Thanks, Mel! 🙂

Elaine Jacobsen
08:22 21 May 20
Amazing service! Fast! Professional! Great Value! And super convenient! Never had my car serviced and get a pinkslip for such a great price and I didn't even have to leave the house. Love it and highly recommend it!

Anke Vuletic
05:47 21 May 20
Super quick and really informative! Definitely my new go-to mechanic 🙂

BellaHoops
07:19 20 May 20
Very professional and friendly will definitely recommend Melissa 🙂🙂

What a legend! Just had my 3 Series BMW serviced my Melissa and she was so thorough and professional. Definitely going back 👍 thanks Melissa

Vanessa Fadda
05:29 19 Mar 20
Mel has turned out to be the best mechanic I've ever had. She was completely transparent about the issues with my car and provided great customer service. My car has never driven better. I would happily recommend her to all of my family and friends.

Georgia Uzabeaga
22:41 18 Mar 20
Mel is Profressional and polite. she serviced my car and was reasonably priced. very honest as I've been ripped off in the past. Will definately be using her services again and telling all my family and friends.

Brain Green
05:30 05 Mar 20
Mel was fantastic, made sure I got my car back on the road quickly after a huge mechanical failure. Excellent work, service and communication at a good price! Not the first job for me, won't be the last either.

Melissa Kemp
05:13 02 Mar 20
Fast service with reasonable cost for mobile mechanic

Matthew Bowen
22:10 14 Feb 20

Nadia Wilcox
09:57 27 Jan 20
Friendly staff. No hidden surprises. Good value.

Sarah Wijngaarden
03:40 22 Jan 20
Professional and polite came to fix my car and was very happy. Good prices and customer service. Will definitely be back and telling family and friends. Thanks TLC

Brilliant service from start to finish. Mel is professional, punctual, efficiant and honest. She is very thorough in her work, her experience & friendly manner instantly puts you at ease.TLC came as a recommendation, I cannot recommend Mel highly enough, Thankyou, I will be utilising Mel as my reqular mechanic .Melisah.

Melisah Watson
10:17 15 Jan 20
Friendly, honest, direct and efficient. Great customer service. Thank you and look forward to seeing you again.

charbel najem
07:46 13 Jan 20
I would definitely recommend this service to anyone. They came to my house and were very punctual and professional and at reasonable prices for the services I needed.

Debra Bonser
11:02 12 Jan 20
My partner called to arrange for work to be done on his car. He waited three days and no call back. He called three times and on the third time she was rude and hung up when asked why she hadn't called back to confirm the booking. On further research he was advised by the critics this person's work is not of a very good standard and there is a history of rudeness towards elderly senior people.

Janice Murphy
03:48 11 Jan 20
Mel is easy to talk to and explains well what a service includes and what is best for you and your car.Down to earth and flexible with times that suit you. She will pick up and drop off your car for you.I would recommend to women of Sydney who haven't been satisfied elsewhere.So good to have a female mechanic in my neighbourhood. Thanks Mel

Georgia Brashaw
02:17 02 Jan 20
Can highly recommend Melissa & the TLC crew. Great service & price. Urgent repairs, car service & rego checks & all done at my place - so convenient.

Tracy Norman
06:58 18 Nov 19
Melissa took great care of me and my car and I will be using her for all of my servicing from now on! Thanks Melissa!

Orna Marks
21:19 14 Nov 19
Mel is fantastic i recommend her for everyone.She fix problem with my BMW 330ci.

Karol Giera
07:23 14 Sep 19
Melissa is an honest and very capable technician.

Dane Huxley
00:33 30 Aug 19

Simon VanderHeyden
22:31 19 Aug 19
Mel was great! Easy to communicate with, thorough, not expensive, and flexible on the day when things went awry for me. Friendly and easy going, I'll recommend her to anyone. Thanks Mel!

Kel Mitchell
05:35 31 Jul 19
Mel is so helpful with any repair or service, you don't have to worry about being told the wrong thing or charged too much.I honestly will never use anyone else again.

Exceptional 5 star service! Half the price of my usual dealer service but double the value! For the first time ever I wasn't told I needed a heap of additional work. Honest, meticulous and so convenient, it's such a relief to find a brilliant mechanic. Thank you Mel, fantastic to meet you & I'll definitely be a customer for life.


luciana nguyen
04:21 09 Jul 19
My husband and I are so glad we found TLC. Melissa offers an amazing service. We've always had to spend hours at service centres and being a woman, I have had many mechanics charge me hundreds for unnecessary work. It is so convenient having it done at home, and now being a stay at home mum, I don't have to stress about being overcharged for work I don't need and can't afford. Melissa is extremely knowledgable about the work that needs to be done and is extremely reliable and punctual. Highly recommended! Thanks for taking such good care of our cars!

Victoria Govers
10:36 05 Jul 19
Amazing service. My car battery died and they came out on an emergency call arriving within less than an hour of me calling. The problem was quickly solved and even though it was pouring with rain she was so kind and positive. The rates were more than fair and I will absolutely use this service again.

Alexander Thompson
09:18 04 Jul 19
Great service and top job! Service guaranteed! She tells you everything up front and no BS! So it helped me budget! I'm a single mum and Mel truly was amazing! With Costs and made sure I got everthing I needed! Super efficient and came to my workplace and my home. Need more great business women like this!

Tara Brown
03:55 24 Apr 19
I've done a full auto service and pink slip with TLC. They are super responsive and convenient. Melissa has been incredibly helpful and accommodating. They charge fair prices and have given me honest assessment on my car. I would highly recommend TLC if you're looking for auto service in the inner west or surrounding area. It's great to have a mechanic you can rely on - someone you won't be apprehensive about contacting when your car needs a service.

David Hoffmann
00:21 01 Apr 19
Great communication and customer service, convenient, reliable and would definitely recommend!

Deborah Mutton
00:21 07 Feb 19
Thorough, plain speaking, reliable, reassuring and a fair price. A really positive experience

Linda Cairnes
08:29 06 Feb 19
Mel from TLC Mobile Autocare is EXCELLENT! She did a service on my Renault Koleos prior to Christmas and it was a hassle free process - She came to my house, serviced the car using genuine Renault parts and also price matched my capped price service from the dealership!! All of this while I was looking after 2 kids under 3. Highly recommended.Job well done! Thanks again Mel.

Sandra Parisi
06:13 01 Feb 19
Melissa is seriously amazing. She is honest, super knowledgable, reliable, affordable and a lovely human. My partner also gets his car seen to by Melissa. We have been struggling with mechanics for YEARS & are so so so happy to have found Melissa. Thank you Melissa!

Marja Jacobsen
01:04 31 Jan 19
Mel did a service and change my battery which was flat. She saved my morning and was amazing! I would highly recommend her.

Tere Castro
23:30 21 Jan 19
Good customer service, reasonably priced, time saver

Thomas Pudich
07:38 18 Dec 18
Wonderful service! Mel communicated everything clearly. She's upfront and honest, and I'll definitely be asking her to look after our car again.

liora ballin
05:17 14 Dec 18
Fantastic and honest mechanic, Mel is.I absolutely know I can go to her and get the truth. She double checks her work, and check any concerns you have. She also gives solid advice, and tips. She has never tried to upsell me, and I've never felt pressured.Her prices low and reasonable. I've had my Hilux major service done and my brakes replaced. And haven't had any issues with them!

Laura Squiddington
00:16 10 Dec 18
She's the BEST!!! I have been using TLC for years, over two cars and wouldn't go anywhere else. Great service. Great pricing. Honest and transparent.

Mark Adamson
22:11 04 Dec 18
Great customer service and exceptional work. So happy to find an honest and good mechanic

Patty Larry
04:35 02 Dec 18
So glad that TLC Mobile mechanics exists. As a lady I'm always intimidated when it comes to car troubles, and I've been taken advantage of in the past. Thankfully, TLC and the wonderful Mel are around to ensure a comfortable, honest experience. She put a new clutch into my car a year ago and, recently, when a light in my dash wouldn't go off, she kept at it until the problem was solved! Mel has an incredible work ethic and really cares about her customers. Highly recommend!

Bethany Fackler
01:46 01 Dec 18
Really happy with Mel's work.She is knowledgeable, cares fiercely about her work and customers, is prompt, transparent about her pricing, and definitely not expensive.I couldn't fault her.I won't be going anywhere else.

Mel serviced our last car before we sold it. It felt terrific to know we were selling the car in top condition mechanically.Now we have a new car, we just had Mel back to do our first log book service. She is honest, upfront and comes to your home..... can you ask for anything more??So happy to recommend her!

Emma Freeman
07:50 27 Nov 18
Mel was punctual, polite and professional. Top quality service.

Sam Ritchie
00:16 27 Nov 18
Melissa is a consummate professional who takes pride in her work, communicates everything clearly, uses the best manufacture approved quality parts, shows up within her estimated time window and repairs within her estimated quote. If I move out of her service area I will drive to her rather than trust my vehicle to anyone else.

Marcia Ruf
03:01 23 Nov 18
Mel has been servicing my car for well over 4 years now. And have always been so happy with her services. I trust her implicitly with my car and I know she will fix any issues that arises without her trying to sell me any extras on top of the actual issue that's happening to my car.You can't get a more honest, trustworthy and reliable mechanic in Sydney!!! 😊👌🏾🚙⭐️⭐️⭐️⭐️⭐️

Joan Paculan
05:41 22 Nov 18

Jocasta Fitzpatrick
07:48 21 Nov 18
Mel did a great job and was honest. What more can you ask for!

Daniel Russell-Cooper
22:55 20 Nov 18
Honest and fantastic!Melissa did a major service including a wheel alignment and changing the brakes.Not only did she do a fantastic job, she was also super honest, thorough and even taught me a couple of thingsabout cars!I will definitely have her look after both our family's cars from now on and I will recommend her to everyone I know.Thank you!

Barbara Kirszman
22:51 20 Nov 18
Have always had great service and an honest diagnosis about what was wrong with my car. The problem was always fixed quickly and I was back on the road in no time. My biggest thumbs up is for honesty and friendliness. Highly recommended!

ross ellis
20:53 26 Oct 18
So happy to have found Mel - arrived on time, worked efficiently, honest about what was done and needed doing, competitively priced, and super convenient having her come to me. I never thought I'd say this, but I'm actually looking forward to my next car service!

Stephanie T
09:39 25 Oct 18
I chose to use TLC after seeing many positive reviews on Facebook. Mel did a great job with my car, visiting my house to do a log book service and pink slip which turned into a new battery and brake pads which I didnt know I needed! She even managed to fix my gears which my previous mechanic had screwed up. Car is driving like new now just in time for a trip up the coast 🙂 reliable and affordable service. Five stars.

Nicole Grant
09:10 25 Oct 18

Karynne Courts
08:15 25 Oct 18
Absolute rip off. Unfortunately didnt experience the same as the rest of the the other reviews which makes me wonder if they are genuine reviews.

super woman
07:02 25 Oct 18
Mel was fantastic! She took the time to explain what she was doing and what needed to be done to my mum and I. I really appreciated her explanation to my Mum in particular. She answered all questions and was very open and honest. She was honest about not needing to carry out unnecessary work. Everything that was replaced was shown to us; old vs new. We will definitely be using TLC again and would recommend them to everyone. Thank you, Mel!

Ruza Capiral
01:38 09 Oct 18
Mel is such a champ! Straightforward and no fuss, makes getting a service a breeze. Cannot recommend more highly.

Ella Bailey
00:45 29 Sep 18
Exceptional detail to the job at hand. My car service was finally done properly with new wiper blades AND wheels rotated to conserve the life of my tyres. Outstanding! The price was also fair. Very happy customer right here, thank you!

Sin Mariani
00:03 20 Sep 18
I met Mel just over 12 months ago. I had to get new brakes and the price nearly killed me. She told me they didn't all need to be done, I could do the front now and the back in probably 3 months. Since then she is my go to for all services and I have recorded her to a lot of friends who have all been happy with her service. Thanks Mel.

Tracy Hayden
10:48 22 Jun 18
Great job from TLC. Explained everything needed and carried out the work in an efficient, friendly manner. Would defiantly use them again and recommend without hesitation.

Luke Adams
09:46 22 Jun 18
Thank you for doing a fantastic job on my routine service! Arrived on time, completed the job promptly, very friendly and honest and charged a bargain price. Thanks again! 🙂

Zoey-Elisha Starr
07:11 20 Jun 18
Mel runs a basic car maintenance course at the Sydney Community College. I got my car serviced and she also went to get my batteries changed. Highly recommended, very professional and honest.

Chang Gang Wang
01:22 19 Jun 18
Mel serviced my 2009 car and she did an amazing job! She fit me in last minute as I was in a tight spot, was honest and frank and charged a very fair amount for the quality of work done. I have DEFINITELY found my new mechanic!

Chloe Angel
10:58 08 Jun 18
Always on time, quotes accurately, does the work correctly & is pleasant and polite (not like a lot of other mechanics !) All that and the convenience of having Mel do the work at the front door! Highly recommended

Jacqui Bonner
02:17 17 Apr 18
Very Helpful and HONEST mechanic. I will recommend to others to use. Great communication and service. Thankyou.

I used Melissa's services for the first time last week for a service for my son's new car. Booking was easy, she contacted me straight away to book a time in. She was prompt and did a fantastic job on the car. The main thing I liked about Melissa is that she looks after her customers and actually cares! (unlike big dealerships) Melissa wants loyal customers and a good reputation - and she knows that being honest, being price effective and having exceptional skills will get her this. Will be using her services again for the pink slip in a few months.

Sarma Strungs
23:34 15 Jan 18
Very reliable, always committed to getting the best parts at the lowest price. Mel has saved me more than once with her mechanic knowledge. Highly recommend!

jessica whittall
13:08 03 Jan 18
Great customer service and honest. 100% recommend

Tom Blanks
04:19 11 Nov 17
Melissa is fantastic Professional and reliable and trustworthy. Wonderful service. A real gem!

Great help buying a new car. Punctual and professional pre purchase car inspection. I highly recommend Mel.

Rita Elsayed
02:08 05 Nov 17
Melissa came recommended by a friend who having been priced out of servicing with his dealership took a gamble on TLC. My friend knew I was in the market for a new mechanic and felt confident he could make the recommendation based on the strength of his experience. Melissa was pleasant to deal with on the phone when I called her and in person when she arrived on time at my home to service the car. I was very happy with the quality, price and speed of work. I also took the opportunity to ask Melissa about costs on my next due service. I had already received trusted and knowledgable guidance from a friend that my next due service would be a big one. Melissa didn't know that I had already done some research. Her response to my query was detailed, well explained and consistent with what I knew would be the work involved. She was able to give an estimate and to suggest a cost minimising approach to the work. So...my experience was very positive. I will definitely do business with Melissa again.

A Google User
20:19 15 May 17
Ever since TLC Mobile Auto Care began serving my car Melissa has taking care of me as if I were family. She is trustworthy, genuinely caring and always looking out for her customers, Her customer service and attention to detail is impeccable, she is technically excellent. Her prices are excellent and the convenience of her coming to my home makes my day that much easier. A+ Service!

Chanel Nolan
02:02 12 May 17
Mel came out to replace an alternator and had it done in no time. She knows her stuff and I really appreciate the fact she takes the time to explain the details. Very trustworthy, fairly priced operator that I'll keep using in the future.

groggit2006
10:00 09 Mar 16
Best Servicing experience!I was having overheating issues with my car, I had the problem fixed with parts & a service done all for the price Holden wanted to diagnose my car problem.Will be getting all future services done with TLC, Thank you!

Kristy Millers
02:34 06 Jan 16
Mel provides excellent service. She has worked on various makes and models, and knows her stuff. That is why I trust her advice and recommendations. Being registered for pink slips means she provides a one-stop shop for regular maintenance on my car. You can't go past Mel for genuinely trustworthy and high quality service.