Car Air Filter Replacement Sydney
If you are a car owner, you probably want to prolong its life and equip it for the highest possible performances. To achieve that, there is a set of minor and major requirements that need to be satisfied. One of those which may appear insignificant but in reality is quite important is car air filter replacement.
Their primary role is to prevent little particles from entering the engine and cause some serious damage. But that's not all, since your car's overall performance can significantly increase once the clogged car air filter is replaced. By letting enough airflow enter into the engine, you'll prevent excessive fuel usage and make the acceleration occur faster. Who would think that something seemingly simple can make such a difference?
Our car air filter replacement Sydney professionals know it very well and are ready to perform both cabin and engine air filter replacement on any car's brand and model. After 15 years of experience and continuous training, you can expect rapid, professional and premium auto care service from our unique and friendly female mechanics.
Fast and Affordable Engine Air Filter Replacement Sydney
As it is included in a major car service checklist, car air filter replacement takes place after 40000km or 2 years of continuous car usage. However, you always need to take the road conditions into consideration. If you have been passing through dusty areas and unpaved roads frequently or you are, like many others, stuck in the heavy traffic every day, the car air filters might already be clogged and the replacement is the best option.
Like we mentioned before, you'll notice that your car uses more fuel than before due to the restricted airflow if the filters get too dirty. We certainly don't want you to waste any money, so we suggest that you entrust us with the rapid and efficient air filter replacement.
You can always check for yourself by opening the bonnet whether the filter plate has gotten brown or black which clearly indicates that it is time for the replacement. If you prefer letting us take a look and determine the filter's condition, simply give us a call or book our service via the form, and we will gladly deal with it. Moreover, you'll be pleasantly surprised with the fair pricing and friendly attitude of our lady mechanics.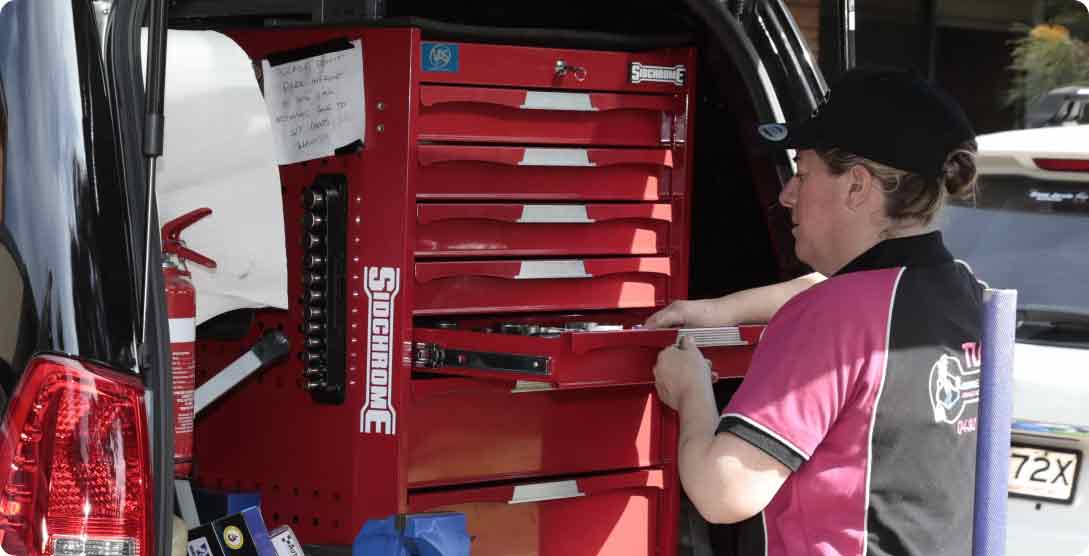 Mouldy Smell inside the Car? It's Time for Cabin Air Filter Replacement
There is a great chance that you've experienced the mouldy smell while driving and it certainly wasn't that pleasant. Since the cabin air filter is here to let the air pass through without bringing in the spores, dust and other undesired materials, once it fails to do so, the air inside our car is no longer clean and safe. This is where the smell alarms us about that once we turn the A / C or heating on. You can also notice that the car is having difficulties to heat up or cool down since the airflow is restricted and unable to perform the wanted tasks.
Contact our Car Air Filter Replacement Professionals in Sydney Today
To be sure that your car air filters are keeping you and your engine safe, it is best to entrust their replacement to a professional team. We work swiftly and efficiently for the best results and will perform only the tasks we agreed upon. In case we notice that your car might need additional upkeep, we will notify you about our findings and suggest the best solutions.
Give us a direct call at 04 30 787 622 now or book our service via the provided form, and learn why so many people in Sydney who genuinely care about their cars put their trust in our top-class service.