Mobile Car Battery Charging Sydney
If you are experiencing car battery issues, it doesn't mean that you have to replace this part right away. Sometimes, all it needs is charging. However, that is not something you should do by yourself and the best option is to call a professional mechanic.
In case you don't know who to contact about this issue, we are here and ready to help. Our team of female auto care experts will fix this and any other car battery issues you may encounter. We provide a thorough and efficient service at reasonable prices.
You can make a reservation with our representatives and one of our experts will come to you as scheduled. Our mechanics are reliable and experienced technicians who can swiftly resolve any type of car malfunctions. Each of our team members will provide your vehicle with level-one service, so do not hesitate to contact us.
Mobile Car Battery Charging On The Spot
When it comes to battery charging, you can be sure our specialists will conduct a systematic and long-lasting job. We will come to your place fully equipped and provide you with the exact service you need. No matter where you are located in Sydney, you can count on us to come to your address and help you. 
Keep in mind that car battery charging is a process that includes several steps and safety measures. So, before this, our mechanics will have to check if your battery is overheating and try to cool it off. After that, we will prepare the charger and turn it on. Once the battery is charged, our specialists will carefully disconnect it from your vehicle and check if everything is working. And, though it might seem simple, this is a type of job you should leave to a professional.
Our experts will know how to conduct testing and charging properly and avoid potential safety risks. So, if the power in your car battery is low, we stand at your disposal.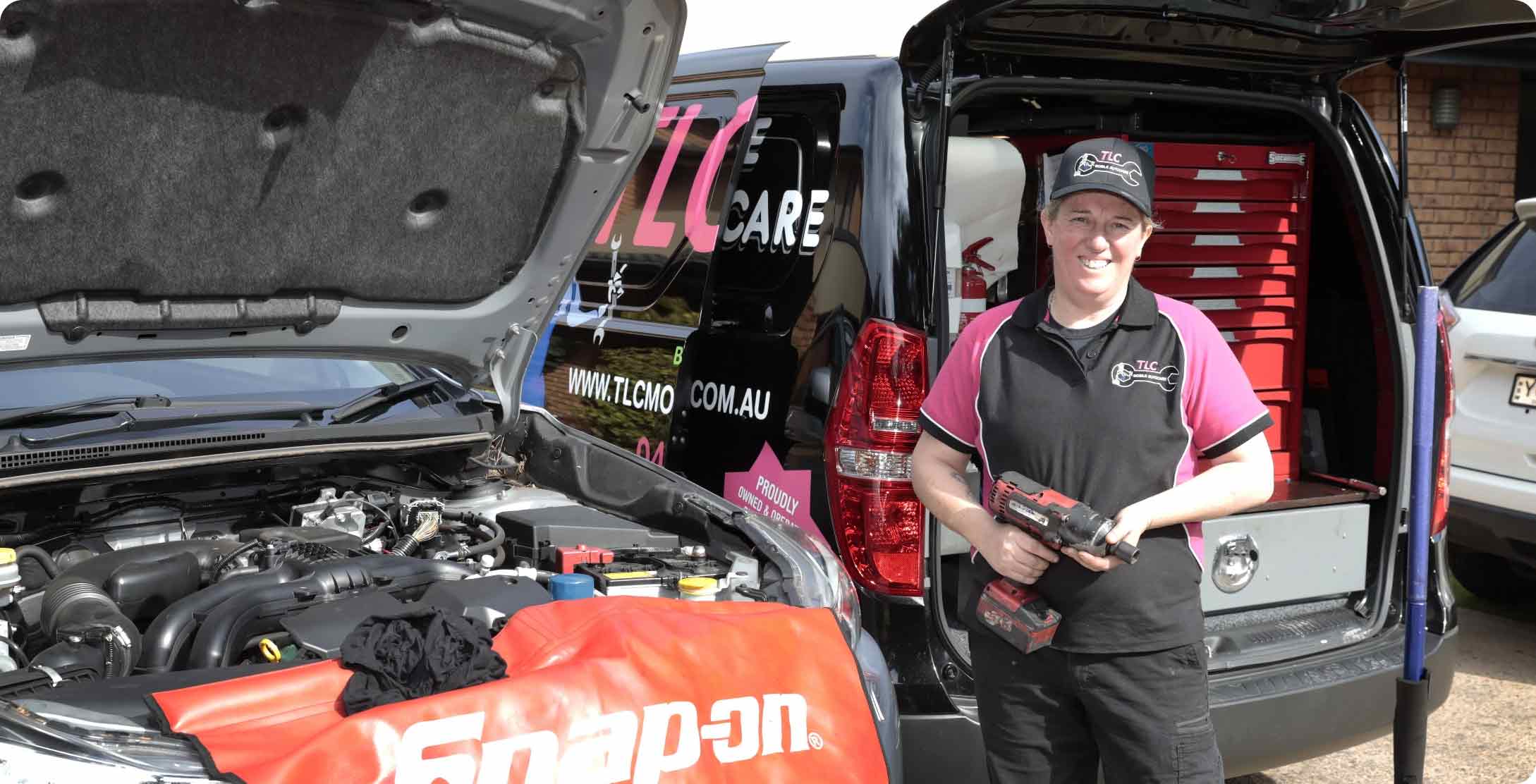 No 1. Mobile Autocare Workmanship
We are working hard to meet and exceed our customers' expectations. Besides car battery charging, our offer covers services such as logbook and major service, as well as different types of repairs. We make sure that all of our work is done professionally. We are a team of honest and reliable female mechanics with more than a decade of experience.
It doesn't matter if your car needs a complete inspection or you just have to change oil filters, we will take care of it. Each of our mobile car specialists will thoroughly check your car and swiftly detect the issue. And, everything will be fixed without hassle.
Additionally, if you have questions about a specific part of the car or you need some maintenance advice, our experts will be happy to help. All you need is to give us a call and explain the situation. Our team will provide you with the answers you are looking for. 
Send Us a Quote Today
Whether it is time for your logbook service or you notice that your car battery isn't working well, you should contact us. We are at your service Monday through Saturday, but there is also an emergency line open 24 hours a day. You can give us a call and expect a quick response. Besides that, you can book our service via an online form and you will receive a confirmation email soon afterwards. 
For additional questions, you can send us an email as well. So, give us a call or send a quote and let us show what makes us the leading mobile car mechanic service in the Sydney area.