Battery and Charging System Repair Sydney
You are about to go to work or pick up the kids, and the car won't start. The other scenario includes dimmed lights or sudden loss of motor strength while driving, so all you can do is pull over and hope for the best. 
Each case is quite stressful and bothersome, but our battery and charging system repair Sydney professionals offer an easy way out. All you need to do is give our lady car mechanics a call and they'll get to you as fast as possible. After a thorough check-up and diagnostics, they will take care of the issue and make sure that you are ready to go in no time. 
Low battery voltage can cause ignition and starting difficulties, but it seems that this fault is often overlooked or wrongly diagnosed. We have a modern scanning tool that will be able to discover every single ongoing issue, so we can successfully deal with them. No matter if there is a minor car battery problem, loose alternator pulley or some faulty diodes, our lovely ladies will handle it. 
Appropriate Diagnostics and Prompt Repair of Battery and Charging System
Ignition and electrical problems are commonly difficult to diagnose which leads to unnecessary components replacement. This is an expensive venture which every car owner wants to avoid. 
The truth is, there is rarely something wrong with the exact part, so genuine diagnostics are one of the most important steps to take in the repair process. We will perform the necessary battery and charging system testing to determine whether they operate correctly. In cases when the alternator is overloaded, it may overheat and fail. This will cause the battery to wear down faster and die eventually. This is why we need to check the whole system to learn more about the course of events. 
Our mobile lady mechanics will come to the rescue wherever in the Sydney area you are. We come to your home, work and anywhere in between, and perform the tasks in front of you. Before we start doing any work, you'll be presented with a fair price and all the procedures we need to perform to make things right again. As soon as our job is over, you can be sure that your car is completely safe and ready for the road.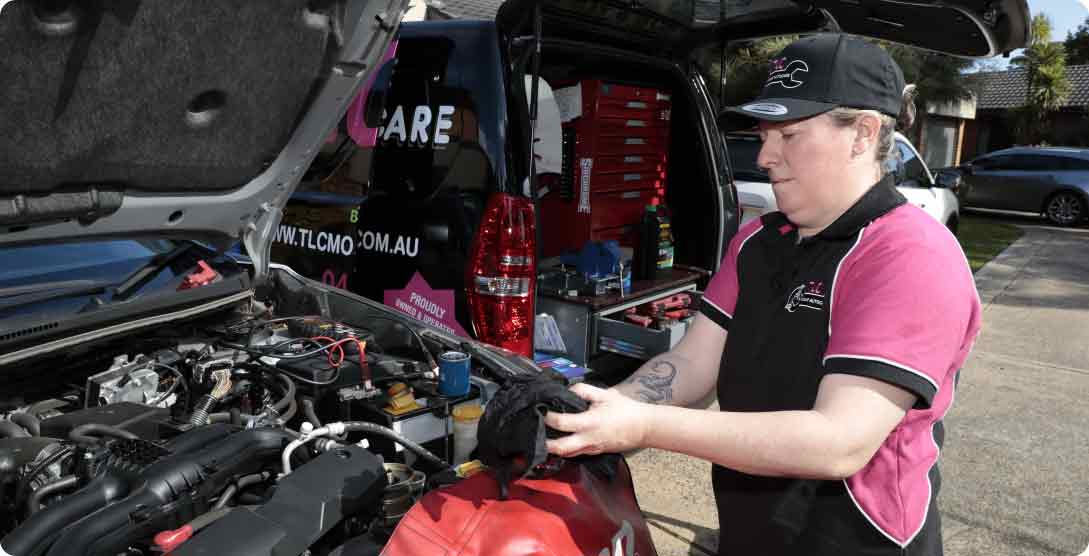 Common Symptoms of the Faulty Car Battery and Charging System
The warning lights on the dashboard like ''battery'', ''charge'' or ''alt'' mean that there is some sort of low or high- voltage problem which needs professional consideration. To prevent any further damage, it is best to give our lady mechanics a call immediately.
If your car won't start or the engine cranks slowly, we suggest the same thing. Any unfamiliar noise that comes from the engine is another sign that something might be wrong with the car charging system, and the same relates with the dimmed interior and exterior lights, windows that roll to slow or dead radio. 
Need a Fast and Reliable Battery and Charging System Repair? Give Us a Call
We are prompt, professional and highly experienced car mechanics that can deal with any sort of automobile problem. Our friendly and knowledgeable ladies will provide an ultimately convenient car repair experience where you can relax knowing that any issue will be taken care of and resolved. Moreover, we wanted to make things as easy as possible for each of our customers, so we made our repair services mobile and quite flexible. 
If your car fails you when you need it the most, you don't need to worry about a thing because we are here for you. All you need to do is give us a call or book our services via the online form, and we will do the rest.