Mobile Suspension Repairs Sydney
The suspension system is a very important part of your car. If it doesn't work properly, it will affect your steering wheel and it might put you and other passengers in danger. Because of that, you should not neglect warning signs and make sure you contact a mechanic as soon as they pop up.
Our mobile auto care company deals with this and other types of car repairs daily, and we know exactly how to help. We are a team of female mechanics with years of experience. No matter if the ball joints on your vehicle are failing or if its springs are damaged, we can take care of anything.
We are fully certified car specialists always ready to provide professional and straightforward service. Our experts make sure that every repair is done within the optimal time and that it is long-lasting. You will not have to worry about the fees, because we make sure to provide you with top-notch service at reasonable rates.
Reliable Mobile Suspension Checks and Repairs
If you are worried that your car is not working well and you don't have a dependable mechanic to detect the issue, we stand at your disposal. Whether you are looking for regular service or a repair, rest assured knowing that we will do a thorough job. 
When it comes to the suspension system, our mechanics carefully and systematically inspect every part of it to locate the issue precisely. You can expect us to explain to you what caused the malfunction or failure and tell you what needs to be done. 
Our female auto care specialists will use high-quality parts to ensure that the issue will not appear again for a long time after the repair. We take drivers safety very seriously and, if necessary, we will double-check everything to make sure that you have a safe ride. No matter if your shocks or struts break and leak, we will conduct a meticulous job.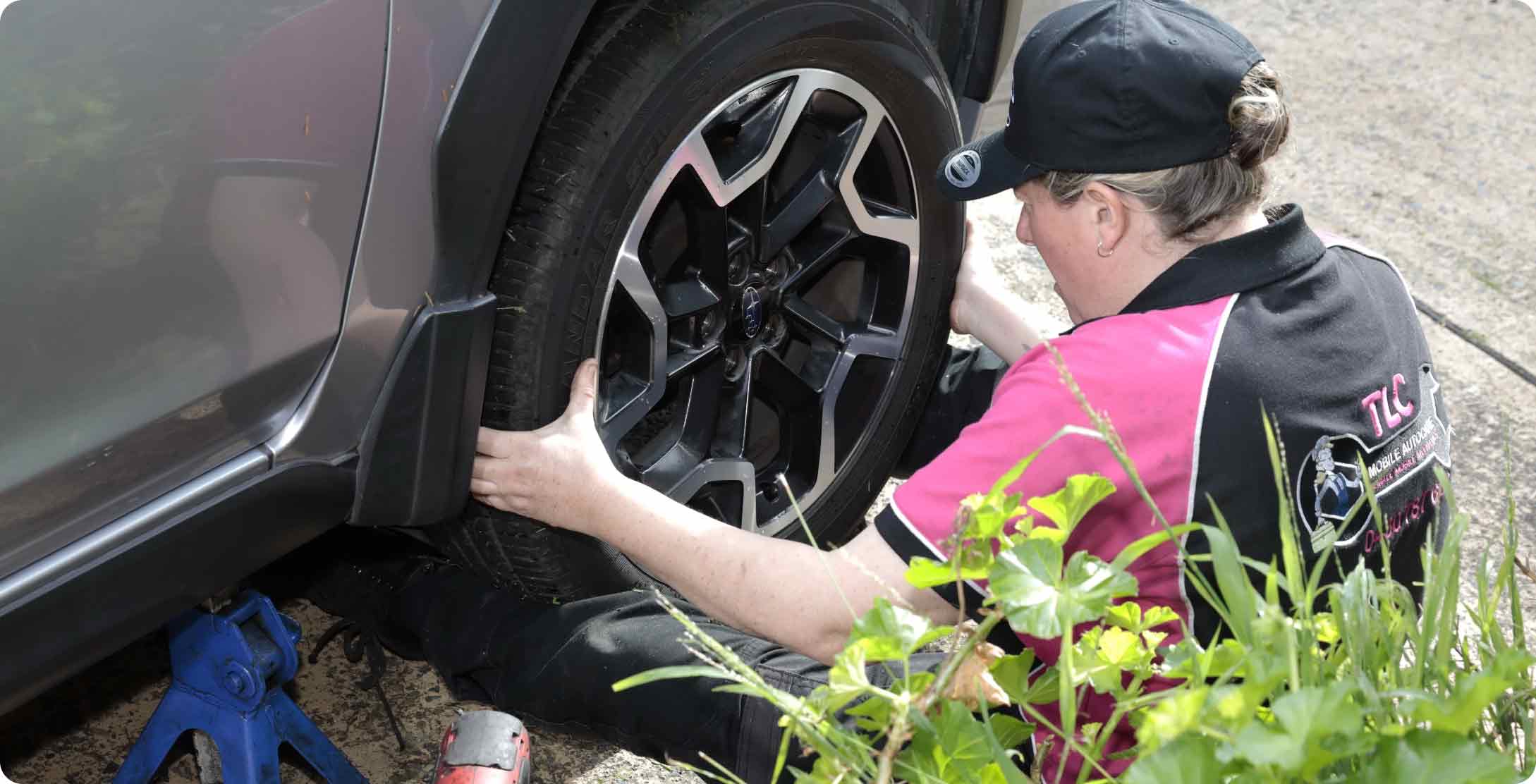 Mobile Car Service Covering All Sydney Districts
In case you are tired of visits to the mechanic shop every couple of months and half-done repairs, it is time to give us a call. We will come to any location in Sydney and provide your car with the necessary repairs.
Whether you are waiting on the side of the motorway or at your home, we will be there. Once you give us a call you can expect us to come to you with a fully-equipped van and provide you with the best mobile car service in the area. 
Keep in mind that we cover all districts in Sydney and our emergency line is open 24h. So, if your car stops in the middle of the road, do not hesitate to give us a call. We will come to your location as swiftly as possible and do our best to provide your vehicle necessary aid.
Book For Mobile Suspension Repairs Sydney Today
No matter the car model, type of repair that needs to be done or location, we treat each of our customers with the same amount of respect. So, if you would like to book for our services, get in touch with us. You simply give us a call and choose the first available term, or send us a quote. All you need is to give us some basic information about your vehicle and location, and we will come to you as scheduled. 
Of course, if you have any additional questions, our representatives will be happy to answer you. You can also send us an email, and we will respond to you as soon as possible. Contact us today and discover what makes us the best mobile mechanic service in Sydney.