Tire Pressure Check Sydney
Even though car tires are resistant to exterior factors like rain, snow or damaged and bumpy roads, their interior pressure is what keeps them able to do so. If it is not adjusted properly, there is a risk of increasing the braking distances and losing overall control over the vehicle. This is clearly something to avoid, so it is recommended that you check your tire pressure at least once a month.
What if you are about to go on a family vacation or any other long journey and you completely forgot about the tire pressure check-up? You don't have to worry about a single thing because our mobile lady car mechanics are already on their way. We will come to your address, perform the testing and take any necessary actions to make your vehicle safe and comfortable for further driving. 
Our tire pressure check in Sydney is a regular part of major car service, so keep in mind that you can count on us for that too. Moreover, we provide complete fleet major servicing, so get in touch with our lovely lady mechanics today and get premium servicing for a fair price. 
Enhance Driving Comfort and Safety with Regular Tire Pressure Check
The tire air pressure is what supports the weight of the entire car, so it is understandable why the wrong tire pressure adjustment can cause multiple issues. 
Besides simply feeling uncomfortable, the car loses its directional stability while the control over brakes is decreased. Not to mention that overall vehicle handling gets more difficult that way which means everyone's safety is compromised. The good news is that all of these potential matters can be solved with our fast and skilled tire pressure check. 
We come to any address within the Sydney area as fast as possible, so if you notice that your car behaves differently, simply pull over and give our wonderful lady car mechanics a call.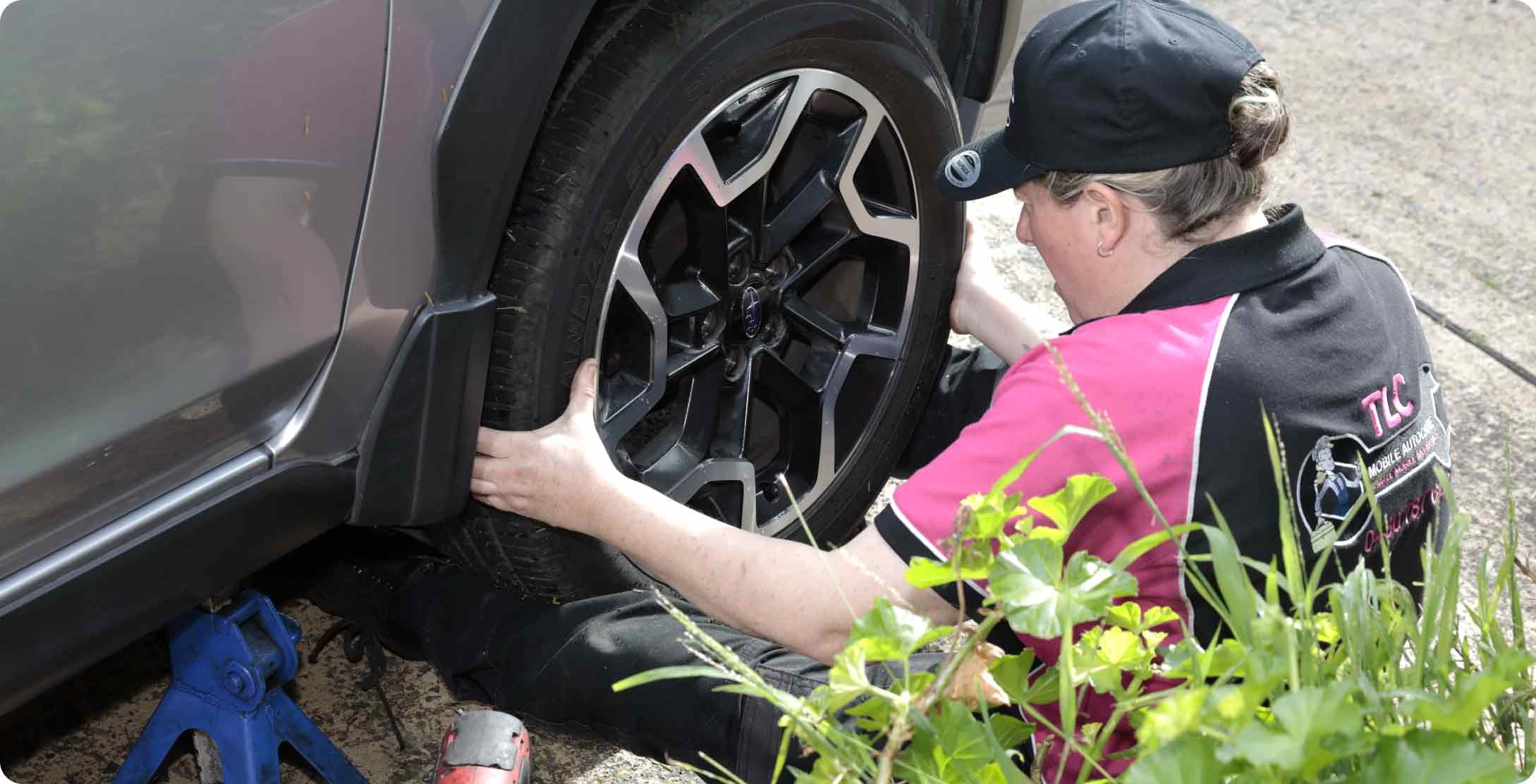 Rapid Check of Tire Pressure for any Car Type
Adequate tire pressure is specified by both vehicle and tire manufacturers. Depending on your car's size and weight alongside towing weight capability, the exact tire size and needed tire pressure will be marked in the vehicle's handbook. Our experienced lady car mechanics had the opportunity to perform this routine task on multiple different types of cars, so you can be sure that they will do the same for you.
As soon as you book our service or give us a call, we will be on our way. Besides checking the tire pressure in any Sydney area, we will perform the total scan to determine whether you are good to go. In case we find more ongoing issues, we will deal with them on the spot and make sure to create a fine price for you. 
With us, you can rest assured that you'll pay only what we agreed upon since your satisfaction is our goal. Above everything, we are huge car lovers, so making them fully operative and secure for you is what we are aiming for. 
Do You Need a Quick Check of Your Tire Pressure in Sydney? Contact Us
We pride ourselves in genuinely taking care of our customers and their cars, so you can count on our mobile all-female car mechanic team to provide the usual outstanding service for the fine price. 
All you need to do is give us a call at 04 30 787 622 or write to us via the form, and we will do our best to get to you as soon as possible. We are well aware of the fact that car tire pressure common check-ups are often overlooked, so we can even schedule our regular monthly visit and simply remind you a few days in advance.