Multiple car owners will most likely feel stressed when the time for servicing comes, especially if their business depends on it. Finding mobile mechanics in Sydney that are reliable and ready to perform fleet servicing is not as easy as it seems. Luckily for you, we come with some good news.
TLC Mobile Autocare experts provide multiple services – from logbook and major mechanic checks to individual repairs and part replacement. In case you find getting in touch with dealerships and setting an appointment for fleet servicing time-consuming and pricey, we are here to provide you with the perfect solution. Once you book our services, we will get to your location and conduct the necessary labour.
Our team specialises in working on various models of vehicles from different manufacturers at reasonable rates. We have years of experience in the automotive business, and we are proud to say the number of our clients is constantly growing.
Logbook Services for Your Fleet
To ensure that each car in your fleet is regularly maintained and safe to use, you should arrange a logbook service after every 10,000 km, or after every six months. This is of utmost importance for those of you who are operating transportation companies. Not only because it affects your working licences, but also because it is a way to run your business responsibly and to provide safe service for your clients.
It doesn't matter if you have just established a transportation company or you have been doing so for years now, we will be the partner you can trust. Your parking yard or garage can be located in any part of Sydney – our team will get there on time and perform top quality service.
The logbook servicing includes everything from filter changing to safety checks. No matter how many vehicles you have in your fleet, we make sure that each of them is meticulously inspected.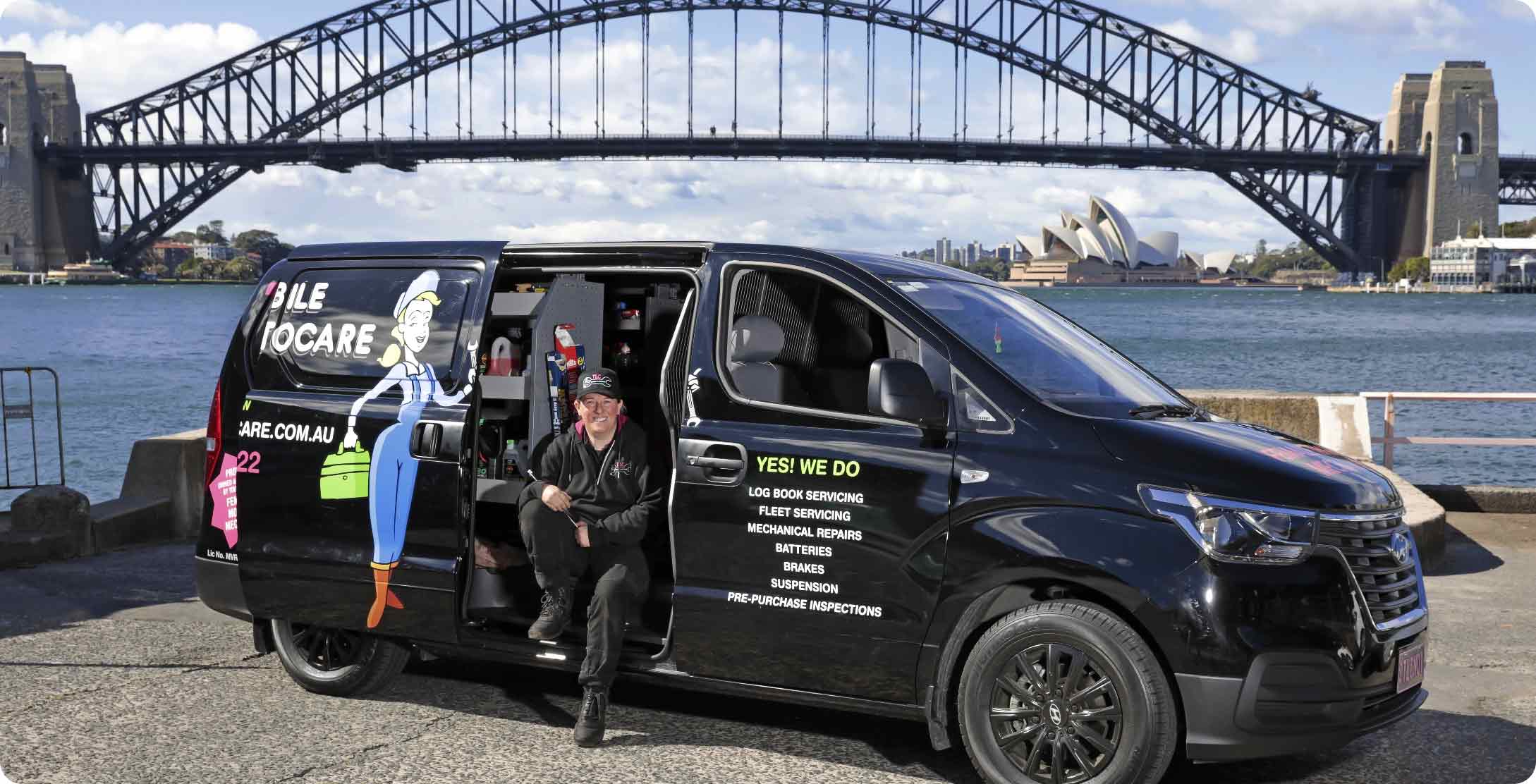 Major Mechanic Fleet Services
Besides 6-month checks, you shouldn't omit major servicing that needs to be conducted every two years. Since this requires an even more detailed inspection of your vehicles, you will need dependable mechanics to conduct it. That is why we stand at your disposal.
Major mechanic checks for individual vehicles or the entire fleet are one of our three primary services. It includes everything from greasing, adjusting brakes, belts and steers, safety checks, changing filters, fluids and much more. Our female mobile mechanics guarantee they will perform precise and efficient repairs, and you can be sure that nothing is left to chance.  
Keep in mind that the examination of European vehicles pays additionally. That applies to the installation of platinum spark plugs and working with diesel engines too. Still, we offer reasonable prices for every reparation and part replacement we make, especially when it comes to fleet servicing. 
Book Our Fleet Servicing in Sydney Today
Keeping your fleet maintained is something that you shouldn't compromise with. Whether you are operating a taxi shop or a luxury transportation service, our mechanics on wheels stand at your disposal. You can make a reservation for any of the inspections in our offer, as well as singular repairs and part changes. 
To make sure we are available on a date you need a logbook or major servicing, you should arrange the appointment in advance. You can do so by filling the form on our website or contacting us via phone. In case you have additional questions, send an email to Mel or Jude directly, and they will get back to you as soon as possible. Also, if you need an urgent service, do not hesitate to call us at any time.